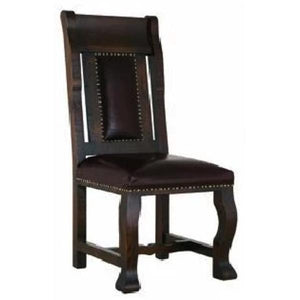 This Leather Chair is an elegant dining option from our Grand Hacienda Collection. The glossy finish and genuine leather back and seat cushion complete the look. 
This chair is available in our Grand Hacienda colors. Depending on the color chosen, the chair may have to be ordered. Once ordered, special colors must be ordered to arrive and be scheduled for delivery. You can view the color options under out "Stains and Color Choices" page. The colors available for this set are listed under Color Options-Grand Hacienda. 
This chair is also available with a leather back, cowhide back, or tooled leather back.
All special orders are all sales final. There are no refunds or exchanges on special order. For questions on colors, call us at 918-227-4673.
Dimensions:
20"(W) x 25 1/2"(D) x 47"(H)
SKU: LG-SIL-16-PV (COWHIDE)
         LG-SIL-16-PL (LEATHER)